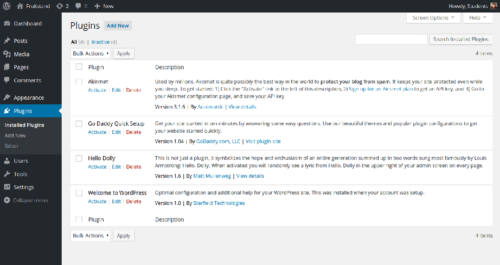 Now that you're comfortable with creating and managing content in WordPress from taking Getting Started with WordPress: Content Management, it's time to dive into the rest of the inner workings of the WordPress Dashboard and beyond. In Moving Ahead with WordPress: Under the Hood, we'll start by learning how WordPress works back on the server. Afterwards, we'll return to the Dashboard to get a better understanding of common Settings and Tools.
We'll discuss user management in WordPress including user roles to limit access to those that can login to our site. Finally, we'll end the day talking about Plugins. You'll learn how they work and we'll review some popular and useful plugins that can improve your website.
Course Description and Prerequisites
Now you know how to create a WordPress website, manage blog posts, and static pages. So, let's go under the hood and learn to add additional functionality to your site with WordPress plugins. We'll cover the installation and configuration of many popular plugins. You will also learn how you can use them to deliver a superior user experience for your visitors.
Additionally, we'll take a look at how WordPress is works behind the scene. We'll see how to setup and manage user accounts and discuss optimizing the settings to improve usability and security.
Moving Ahead with WordPress: Under the Hood Prerequisites
Our Focus: WordPress Settings, User Management and Plugins
Picking up where we left off in Content Management, we will begin by learning how WordPress works on the server. You will also learn how WordPress communicates and interacts with client computers.
Afterwards, w'ill return to the Dashboard and step through the Settings and Tools sections that help us optimize our sites. Next, we will dive into User settings to learn how to control those we allow to login to the site.
Finally, we will talk about Plugins, what they are, what they can do and how to find them and install them on our site. We will end the day looking at several useful and popular Plugins and discuss what they do and how they work.
Former Students Share Their Insights
Donnie is an amazing instructor, very knowledgeable.
Mike T. | Student
Colorado Free University
Great class! great instructor! Very informative!
Peggy S. | Student
Colorado Free University
Perfectly met needs! Well organized! Thanks – 2nd class brought it all together for me. Much better prepared to meet tasks @ office.
Jeff P. | Student
Colorado Free University
Very informative! I feel prepared to setup my site.
Charlotte R. | Student
Colorado Free University
Excellent Class!
Frank M. | Student
Colorado Free University
Thanks! Great class & instructions.
Sylvie I. | Student
Colorado Free University
WordPress: Under The Hood Class Resources
Many of the topics covered WordPress under the hood are set 'em and forget 'em, but nonetheless are important to know, especially when initially setting up your website. Below you will find several resources to help you further explore issues that may arise under the hood. Particularly of interest is WordPress online user's manual, or Codex, documents everything in the dashboard. Check out the support forum as your answer may be there too, or as a last resort, go ahead and ask the community.
Check out our other WordPress and SEO Classes or learn about our Corporate or One-on-One Instructional Offerings.