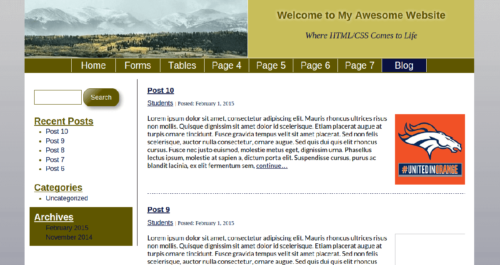 So you've found a theme that almost meets your needs, but you can't figure out how to make it perfect? Or, you want to make a custom theme so it's unique and does all the things YOU want it to? Then join me for WordPress for Developers: Custom Themes. In this class you will learn the basics of WordPress theme building and template priorities.
After this class you will have a solid understanding of how to make edits to an existing theme. You'll also learn how create your own custom theme that does exactly what you want it to do. This class will explore the inner workings of themes and how they work. You will be coding a custom theme where ALL content is dynamic and accessible from the dashboard while you learn.
We will develop various templates including a front page, other pages, blog posts, author and archive templates and even multiple sidebars we can specify to display on any given template.
WordPress for Developers: Custom Themes Course Description
Now that you have a handle on managing your WordPress site, this course will take you behind the scenes and show you how to build a 100% custom WordPress theme.
Using HTML5/CSS3 you will learn how to: develop a custom theme; setup custom loop queries for your blog/pages/archives; add custom post types to manage additional content; create custom page templates; add a site search; familiarize you with the WP codec and more.
Leave class with a fully functioning custom theme you can use immediately or easily customize to meet your needs.
WordPress for Developers: Custom Themes Prerequisites
Day One: Constructing the Template Files and Making All Content Dynamic
On the first day we will take the HTML template we made in It All Starts with HTML5/CSS3 and chop it up into WordPress template files. We will start with the style.css file and learn how to communicate with WordPress to name our theme along with other metadata.
We will proceed by breaking our HTML up into templates for our header, sidebar, main content area and the footer. With our new templates created we will learn how to use WordPress PHP function calls to create a highly dynamic website that pulls all of our content from the WordPress dashboard.
Day Two: The Blog Template Files
In the second day we will build out the basic WordPress blog templates for the blog roll and individual blog posts. There are a plethora of templates one can develop for a WordPress blog.
We will focus on the blog roll and the individual post templates primarily, but if time allows we will build an archive template. We will discuss the archive templates in some detail after completing the two primary files.
WordPress for Developers: Custom Themes Class Resources
While learning to develop your custom WordPress themes, you are sure to have more questions pop-up that weren't covered in this class. Below you will find some resources that can help you find answers to those questions. Luckily, WordPress is well documented and has a lot of code snippets you can use in the WordPress Codex, or online user's manual. You might also find Stack Overflow to be an invaluable resource where other developers jump in to provide guidance when you get stuck.
Check out our other WordPress and SEO Classes or learn about our Corporate or One-on-One Instructional Offerings.